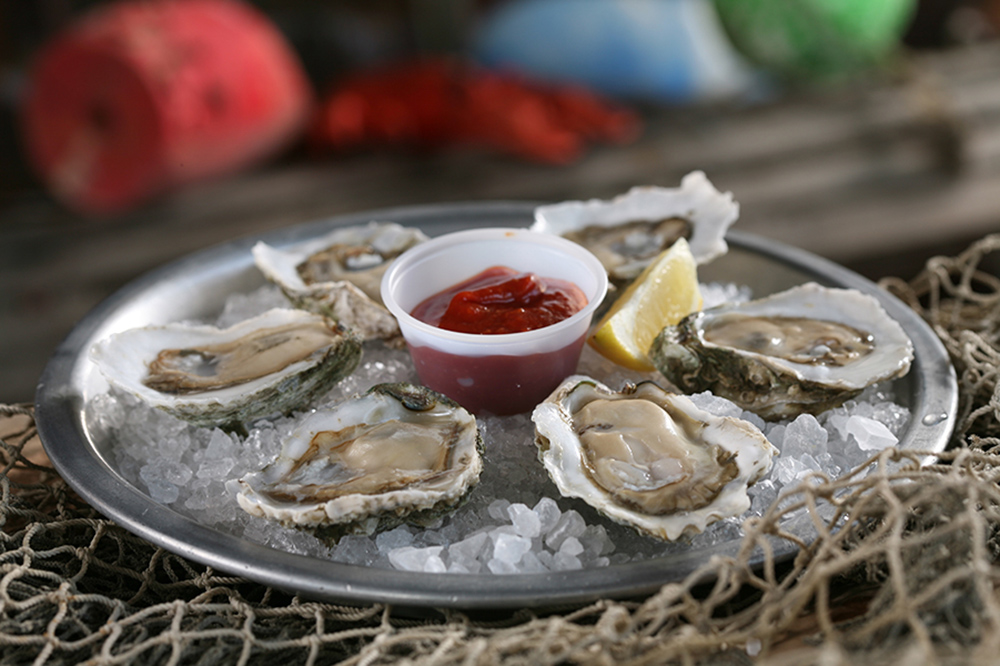 Oysters are one of those few food items that split people into two categories. Oysters are not "on the fence" food. It's kind of like pineapple on pizza: you either love it or hate it. (If you are curious, yes pineapple belongs on pizza! Check out a recent blog on that topic from our sister restaurant Ultimate California Pizza here.)  Since the season is almost here, let's talk Oyster Roasts. A little history, a little about oysters, and some information about the Oyster Roasts we are hosting this season at Pawley's Raw Bar!
The first question that needs to be answered is: What is an Oyster Roast? Oyster Roasts are the perfect fall & winter Low country Tradition! Whether it be gathering around a campfire with friends or joining us on a Saturday afternoon. Oyster Roasts mean sweater weather….. or at least a long sleeve t-shirt here in the Low country. Oyster Roasts mean great times with great friends sharing great experiences that create lifelong memories.
Oyster Roasts are typically large affairs where oysters are steamed to perfection. Sometimes live music is played to provide a relaxing mood while you sit around a table with your best friends. Oysters serve as the main attraction but are often accompanied by a generously sized roll of paper towels. It is common to see saltine crackers, cocktail sauce, horseradish, lemon wedges, and different versions of your favorite cocktails.
Oysters have been a steady part of the local's diet since before Europeans set foot on U.S. soil. You can find beds of discarded oyster shells scattered throughout the barrier islands and just about every marshy region along the east coast. Along the Grand Strand, we are very fortunate that the perfect harvesting season coincides with the ideal oyster harvesting season. While you can dismiss the folklore that only months with the letter R in them is when oysters can be safely harvested, they do tend to be more savory when the water temperatures are cooler. This myth originated and held some merit before refrigerators became available. However, oysters indeed taste better when they come out of colder water. When the water warms up, oysters begin to spawn. This makes them taste flat and murky. Coldwater makes the oyster flesh firm and they regain their salty-sweet flavors.
Some cool facts about oysters:
1. Oysters clean the water.
Oysters are incredibly efficient! One oyster filters 50 gallons of water each day. A one-acre oyster reef can filter approximately 24 million gallons per day. That's enough water to fill 36 Olympic swimming pools. Oysters remove sediment, nutrients, and algae from the water helping to keep it in good shape for other marine life.
2. Oysters are good for the ocean.
Besides cleaning the water, oysters can also create reefs to provide a natural barrier to storm waves and sea-level rise. Oyster reefs can reduce erosion, help prevent flooding and damage from coastal storms. While it can't stop the storms, it is believed that oyster reefs can absorb 76+ percent of wave energy. They are also cheaper to make, maintain, and grow compared to other manmade options.
3. Like wines, oysters have a variety of flavor profiles.
Similar to grapes, the flavor of oysters can be classified by their characteristics. These flavors come from their environment. Because oysters filter so much water they take on the flavors provided by the nutrients they filter. Some of the more common personalities are briny, buttery, sweet, metallic, and mild. Some experts even claim they can detect flavors like melon, cucumber, mushroom, and more.
4. If you like facts about oysters, you should check out our blog post from August 2020. 
But what about Oyster Roasts at Pawley's Raw Bar? I'm so glad you asked! We are ramping up and getting ready for them as I type this blog! Our Oyster Roast dates for the 2021-22 Oyster season are:
Saturday, November 6, 2021
Saturday, December 4, 2021
Saturday, January 8, 2022
Saturday, February 5, 2022
Saturday, March 5, 2022.
The Oyster Roasts will start at 12 pm and run until 3 pm. The cost is $30 per person.
We look forward to seeing you there!
We aren't your typical Happy Hour. Yes, it is Monday thru Friday from 4 – 7 pm. We have drink and food specials, but we are looking for a more face-to-face experience. So many organizations have transitioned to a whole restaurant happy hour. We want you to sit at the bar and have a conversation with us. Talk to us about your day. Share a story with us. Put the phone down (unless you are liking our social posts) and have a conversation with us.
What about the specials you ask? We have the specials! Specials on wine, liquor, bottled beer, and oysters! But we have some other special items for you as well. We have created eight, only available at the bar, specials.
Wasabi Tuna Bites – Fresh, spicy, YUM. This offering features blacked and seared yellowfin tuna on cucumber discs with fresh spring mix, diced tomato, and drizzled with our cucumber wasabi dressing.
Grouper Taco – Who doesn't love tacos? No one we know! This taco features blacked grouper served with shredded lettuce, cilantro lime aioli, and Pico de Gallo.
Shrimp Taco – This awesome taco features gulf shrimp served grilled or fried with shredded lettuce, cilantro lime aioli, and Pico de Gallo.
Firecracker Shrimp – Bacon? Shrimp? Combined? SIGN ME UP!!! We wrap our gulf shrimp and jalapenos with bacon, hand-breaded to perfection, served with house-made cilantro lime aioli.
Buffalo or Chili Glazed Shrimp – Looking for something that bites back? Try our gulf shrimp hand-breaded and tossed in your choice of buffalo or sweet Thai chili glaze and served with either bleu cheese or house-made ranch dressing.
Spinach Dip – creamy house-made spinach dip topped with melted Monterey jack cheese. Served with tortillas chips
¼ LB Steamed Shrimp – a smaller portion than what is offered on our Raw Bar section of our menu, but still the same steamed peel and eat shrimp spiced with Old Bay and served with cocktail sauce.
Chili glazed Shrimp Nachos – Delicious creek shrimp hand-breaded and tossed in a sweet Thai chili glaze, and piled on a mound of tortilla chips with blended Monterey jack cheese, shredded lettuce, and diced tomato.
Whether you are making the transition from work to play, visiting us on vacation, or just looking for a friendly place to pull up a chair, we have something for you. Join us at the bar today. Let's talk about GREAT food, GREAT service, and GREAT experiences.
If you want to check out our menu, visit our website here.