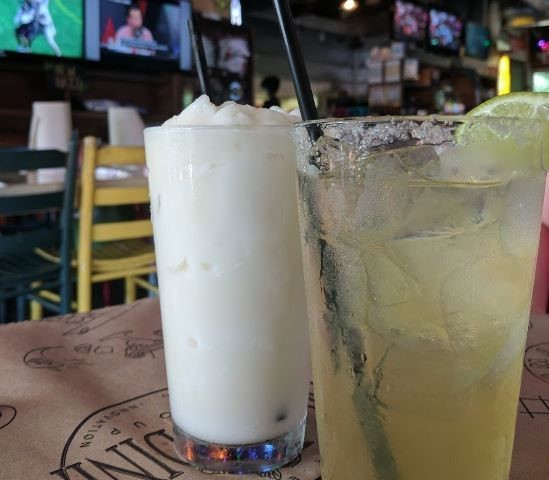 Rum-based drinks are extremely popular whether you are on the beach, on a boat, or sitting in your favorite restaurant. Rum drinks invoke that feeling of pure relaxation or take you back to relive memories of that perfect vacation. Native to the Caribbean, it is easy to understand why they have become a favorite of beachgoers. We are very lucky at Pawley's Raw Bar to have both beach and low-country influences. This month, let's take a look at rum, a low-country favorite.
Strawberry Daiquiri, Pina Colada, Mojito are just a few of the drinks that come to mind when someone suggests rum. But did you know that there are several different types of rum? There are more than 100 rum producers across the world, but there are several different types of rum also. Some are best used for cocktails, some are best used for sipping by themselves.
What makes rum, rum? 
Compared to whiskey or wine, rum is aged for a short period of time. Thanks to the consistently warm temperatures in the Caribbean, the aging process happens quickly. Most rums are aged in previously used wooden casks. The warm weather helps a reaction between the liquid and the wooden barrel quickly. However, utilizing used barrels means the rum won't seep out of, or into the barrel while still getting some of the precious flavor component and important spice from the eugenol and lactones for its tropical flavoring. Individual flavors come from tropical fruits, vanilla, and caramel swirling in the liquids. Yeast can also impact the flavors by causing the molasses to ferment even quicker.
Let's talk about the different types of rum.
1.   White Rum: As per the name, white rum is a clear, lighter-bodied, though often aged very briefly and filtered rum with a lighter flavor. Ideal for cocktails. Example: Bacardi Rum. 
2.   Gold Rum: This version is slightly more complex than white rums due to aging in oak barrels. This rum is still good for cocktails as they're not yet extremely complex in flavor. Example: Tortuga Gold Rum. 
3.   Dark Rum: This rum is aged for longer periods of time. It creates a darker-colored rum with a fuller flavor profile. This rum is good for sipping solo. Example: Plantation Original Dark Rum
4.   Spiced Rum: This rum is a distilled rum that has been flavored with spices. The flavor profile gives a much higher impression of spice received from aging in the barrel. Example: Captain Morgan Spiced Rum.
At Pawley's Raw Bar we offer several options at our bar that feature rum. Some of the more popular options come from our Fruit & Frosty section of the drink menu. Our Strawberry Daiquiri and Pina Colada, are both capable of cooling you down at the end of a hot summer day while still providing that beachy feel. 
Not to be outdone, the Pawley's Specialties section offers some delicious options as well. Our Citrus Sunset features Svedka Citron Vodka, Admiral Nelson's Coconut Rum, cranberry juice, and pineapple juice. Or maybe try the Plantation Punch that features Silver rum, Myer's Dark Rum, pineapple juice, orange juice, and grenadine.
Rum can also be used as a substitute for other liquors in many cases. Swap the whiskey out for rum and those with gluten sensitivities can still enjoy an old-fashioned. Like the idea of a Tom Collins, but not interested in the gin kick? Simply swap the gin with white rum.
Regardless of your choice, Pawley's Raw Bar will be excited to serve you. We are so fortunate to get to combine the beach vibes with the low-country feel and all the things that get wrapped in that together. So join us soon and let us share it with you.