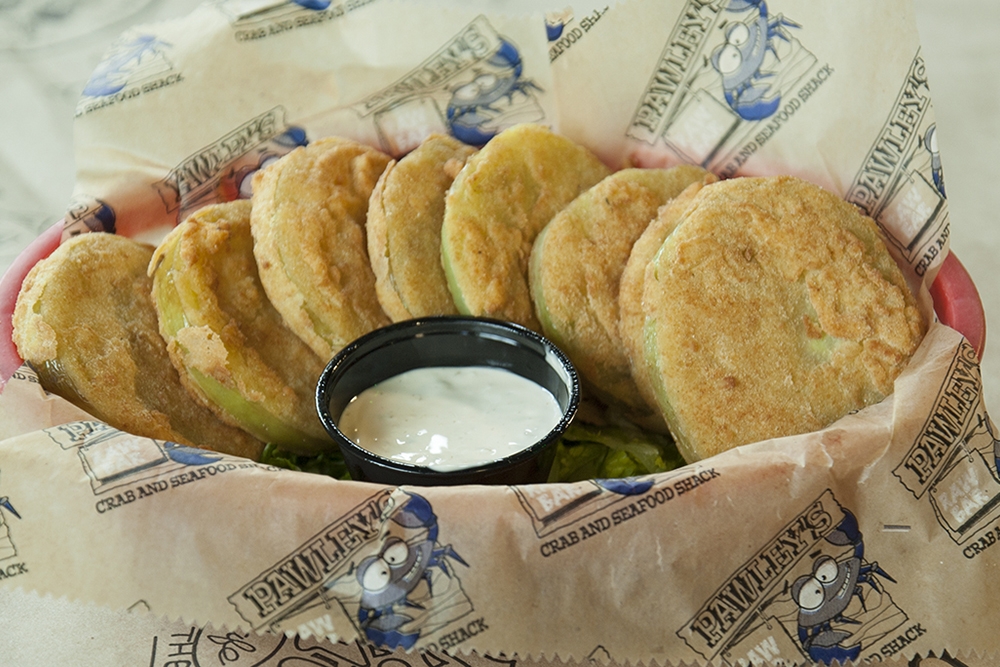 Usually found in the Southern United States, Fried Green Tomatoes are a special time-honored summer tradition. At Pawley's Raw Bar, they are a year-round favorite. Fried Green Tomatoes have some interesting history and aren't that challenging to make. Let's take a bite into this delicious offering in this month's blog.
While you may find Fried Green Tomatoes most commonly in the south, they aren't specifically tied to that geographic area of the United States. In fact, it is believed they originated in the Mid-West and Northeastern regions of the United States. Some believe it may even be tied to Jewish cuisine. A recipe even appeared in a 1919 cookbook titled "The International Jewish Cookbook".
The concept of this dish was created at the end of the tomato growing season. They became a seasonal treat when farmers would rush to get the remaining tomatoes off the vines prior to the first frost. Of course, when the movie by the same name came out in 1991, the popularity of this flavorful item exploded. They are so popular that they can be found across all levels of restaurants. In 2017, at the Greenbrier Classic Golf Tournament, they used more than 500 green tomatoes per day.
What is a Fried Green Tomato? Well, it is pretty much exactly what it sounds like. You start with a green tomato, a tomato that isn't completely ripe yet. (Again, this all started at the end of the growing season and they created them to use the tomatoes before they were lost to frost.) Slice the tomato into ¼ – ½ inch slices. Season the sliced tomato with salt and pepper and then coat with plain cornmeal. The traditional method is to shallow fry the mixture in bacon fat for a few minutes on each side. Shallow frying is good because the tomatoes do not float which helps compress the cornmeal on the underside.
There are of course several alternative methods to cook Fried Green Tomatoes. Some of them call for using breadcrumbs or flour instead of cornmeal and they ask that you fry in vegetable oil, not fat. Several methods also ask that you drench the sliced tomato into buttermilk or beaten eggs. This is used because cornmeal, flour, and breadcrumbs don't easily stick to tomato slices. Using beaten eggs results in a slightly firmer texture than buttermilk.
Are you interested in making your own? Here is an easy recipe you can follow at home. Step 1: Slice up some green tomatoes about ½ thick. Yes, you could use red tomatoes, but you have to be extremely careful that they are not over ripe or they will be very mushy. Step 2: Wisk eggs and milk together in a medium sized bowl, scoop flour onto a plate. Mix cornmeal, breadcrumbs and salt and pepper on another plate. Dip the tomato slices into the flour, then into the milk/egg mixture and then dredge in the cornmeal/breadcrumb making sure to completely coat the slice. Step 3: In a large skillet, pour vegetable oil so there is about ½ inch of oil into the pan. Heat to medium heat. Depending on skillet size, place 3 or 4 of the tomato slices into the skillet. Don't crowd them or let them touch. When the breading browns, flip them over to cook the other side. Drain the excess oil onto paper towels and serve, we recommend a nice remoulade to accompany them.
Need a simpler recipe? Stop by Pawley's Raw Bar. We make them 7 days a week and look forward to making some for you!