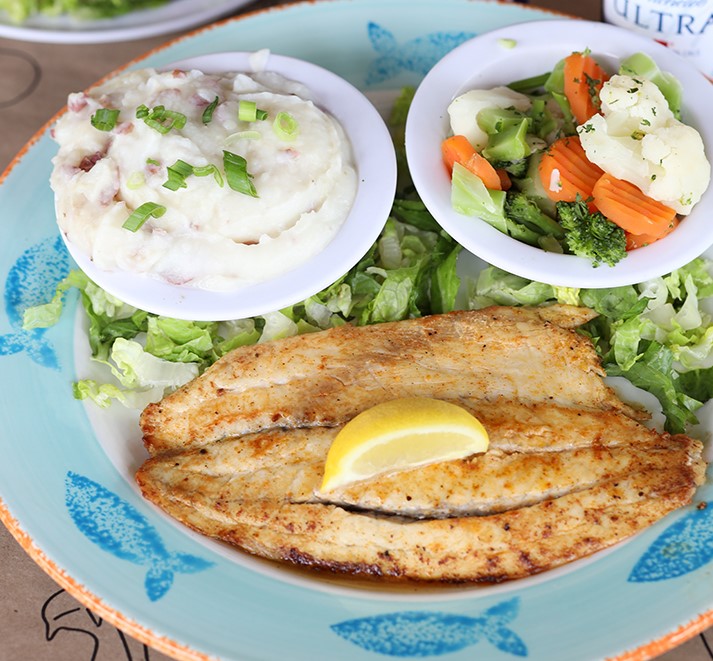 As a Lowcountry restaurant in an extremely popular tourist destination, we get a lot of questions about what is on our menu. Because we are located close to the ocean, we get even more questions about the types of fish we serve. Of course, we answer the guest's questions and we even send them a copy of our menu to look at before they make their trip, but it made us think that all of our guests would like to know what fish offerings we have on our menu. In this month's blog, we are going to share the different types of fish that are on our menu.
At Pawley's Raw Bar we are so hooked on fish you can find it in almost every section of our menu. We offer fish in some way or another as an appetizer, as a topping for a salad, on a sandwich, as part of a platter, as a feature of our specialties, or as the champion of its own plate.
The first offering is Grouper.  A fish with a very mild flavor, grouper is light, sweet-tasting, and is typically served in large chunky flakes. Grouper easily absorbs marinades and dressings and can be easily breaded and fried. On the menu at Pawley's Raw Bar, you can find grouper as an appetizer, served on a Po Boy, and as one of the choices for a platter. We also use grouper to make our Blackened Fish Tacos. We perfectly season and blacken the grouper and then make it into 3 tacos with shredded lettuce, house-made cilantro lime aioli, house-made Pico de Gallo, and a side of black beans and rice.
The next offering is a very common fish in North America. It is constantly touted as a healthy fish with many nutritional benefits. Low in calories, low in saturated fat, Salmon is also an excellent source of protein and is bursting with potassium, iron, and vitamin D. Salmon is also one of the best sources of vitamin B12. Salmon is one of our fresh catch options, but can also be found grilled or blackened on top of our house and Caesar salads. It can also be found on the specialties section of the menu as Caribbean Salmon. We blacken the salmon in a Caribbean jerk sauce and then serve it over white rice with a house-made Pico de Gallo and add a nice vegetable medley to round out the plate.
Flounder is another option to build a platter. Flounder is known as a mild, yet slightly sweet fish with a delicate and fine texture with very low levels of oiliness and moisture. Flounder is similar to halibut. Flounder is a very versatile fish.
The final platter option is Cod. Cod is a nutritious and very flavorful fish loaded with lean protein, vitamins, and minerals. Cod is low mercury seafood but is also lower in omega-3s than most fatty fish. This very versatile fish has a very mild, almost milky flavor. It is flaky but firm enough to stand of too many styles of cooking. So much so that we also use cod to make our Beer Battered Fried fish and chips.
We aren't done yet! We have a great Mahi Mahi as well. Grilled or blackened, you can find it as a topping for our house and Caesar salads, grilled as a sandwich, as part of our fresh catch menu, and finally from the specialties menu, blackened and served with red potatoes and sautéed spinach topped with bacon and tomatoes
The last fish offering we have to share with you is Tuna. Known for being a massive fish and one of the most common fish offerings, tuna is also known for its high levels of omega-3 fatty acids and its ability to help reduce the levels of LDL cholesterol that can accumulate inside your arteries. Studies have shown that eating tuna can help reduce cardiovascular disease.  You can find tuna as a topping for our house and Caesar salads and also on our fresh catch menu.
We are proud to have such a diverse menu at Pawley's Raw Bar and while these fish offerings are just a small sample of our overall menu, we are excited to serve every plate that is ordered. If you are looking for fish, we are the perfect destination. We look forward to serving you your choice, with a welcome and a warm smile.
If you interested in looking at our menu, check out our website www.pawleysrawbar.com