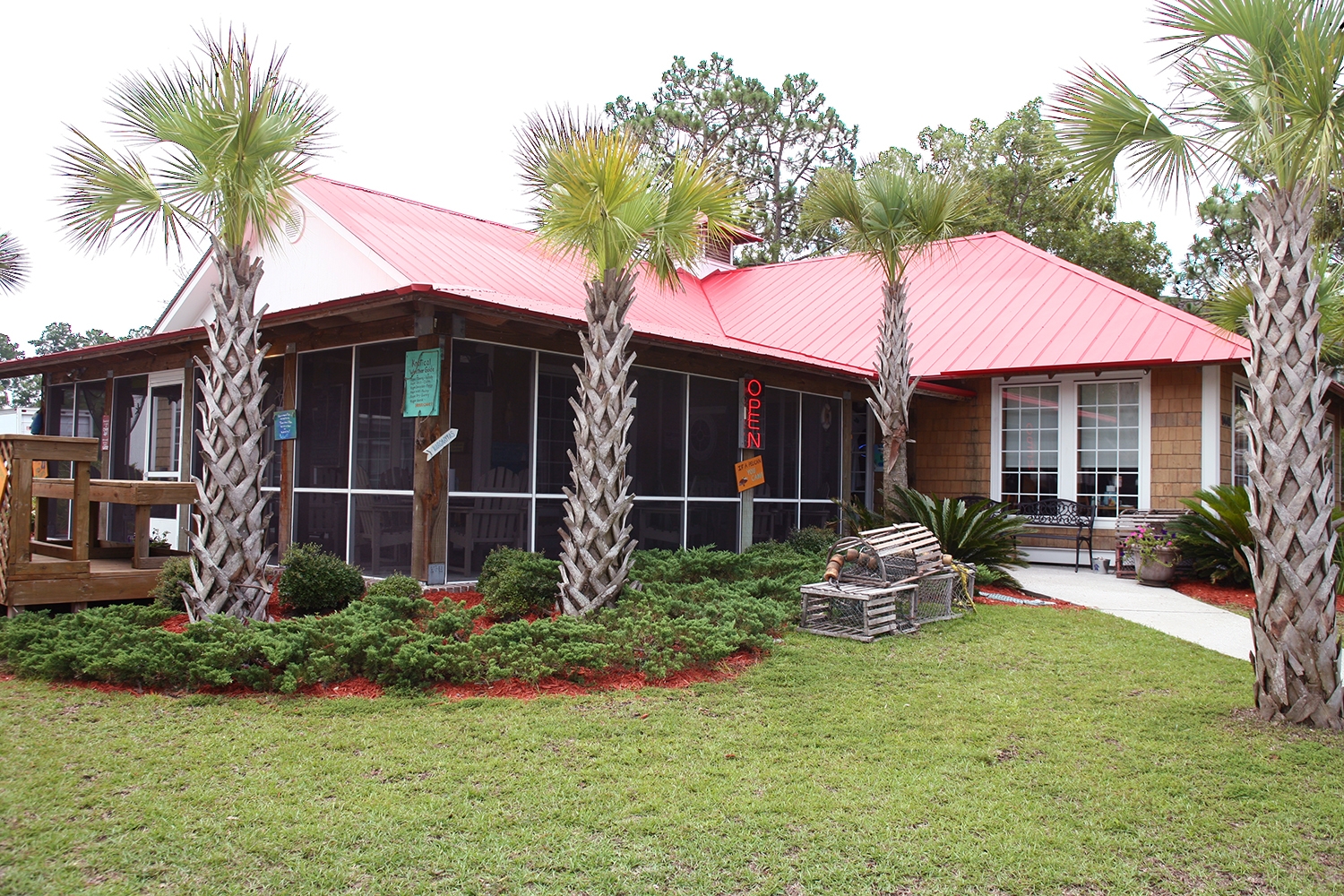 It is not uncommon for us here at Pawley's Raw Bar to get a lot of questions from not only our loyal locals but from folks traveling to our area for the first time. In true southern fashion, we want to be as helpful possible!  Our hospitality knows no bounds.
Pawley's Raw Bar is a mainstay in the Pawley's Island community for many years. We consider ourselves to be immensely fortunate to have locals we consider family, faithful repeat visitors we consider friends, and also that we get to look forward to meeting first-timers that will soon be a part of our circle.  We love to share our food with anyone and everyone and we love getting to know our guests as they become family. We created this list with all of you in mind.
Taking that into account, here are 15 FAQs about Pawley's Raw Bar.
What type of dining experience can you expect?
Laidback. Relaxed. Fast-casual. Fun. Family oriented. Seafood house. Those are just a few words our guests have used to describe their experiences with us. We are a friendly bunch that loves to share stories and talk with our guests about life and great food. You can expect to see folks in beach casual wear and flip flops, old fishing boat decor, and lots and lots, and lots of oyster shells on the ground!
What our hours of operation?
We open every day at 11:00 am and close at 10:00 pm.
Do you take reservations?
We do not. We pride ourselves on being a first-come, first-serve restaurant. If there is a wait upon your arrival, we have some amazing outdoor seating to help you pass the time. Have children with you? We have a small play-ground to help them stay occupied.
What type of dining areas do we provide?
Rustic, cozy, and family-oriented is the best way to describe our dining room. Airy, beachy, and shaded is a good way to describe our outdoor dining area. We make you feel welcome and provide a perfect place for you to enjoy each other's company.  Our guests are our family so we want to ensure you are comfortable. Tables topped with butcher block paper both indoors and out make a perfect spot to enjoy conversation with your family and friends all while enjoying some delicious southern fried seafood! Do you like to play corn hole? We have that too! And don't forget the play area for the kids!  Coming by yourself? No problem, pull a stool up to the bar and we will still treat you like family.
Are we social? How can you follow us?
You bet we are! You can find us on Facebook @PawleysRawBar. Find us on Instagram @pawleysrawbar. You can even interact with us on Snapchat! Find us at @pawleysrawbar. We would also love for you to leave us a review on Google, Yelp! or Trip Advisor. We want to get as much feedback as we can from our guests. It helps us work towards sharing our passion to provide the perfect dining experience to every guest every day.
What type of food can you expect?
Platters, sandwiches, salads, and more! We have several savory fresh salads, some delicious sandwiches, big appetizers, and some outstanding platters. We even offer a fresh catch served with your choice of two sides. Don't forget our house-made soups. We have raw bar selections for you to choose from also. We have boiler pots and crab legs too! So many delicious items to choose from. We apologize now if it makes the decision hard for you. We have some delicious desserts too!
Are there kid's menu options?
Absolutely! We have kids burgers, chicken fingers, corn dogs, grilled cheese, shrimp, and flounder. All served with a side and a drink.
Gluten-Free Options? Allergy Accommodations? Vegan or Vegetarian Options?
All of our food is prepared in a common kitchen, but we do offer several options for those looking to follow a gluten-sensitive lifestyle. Our kitchen creativity didn't stop there. We have various vegetarian options like our awesome salads and a vegan veggie burger as well as some meat-free appetizers. However, our breading does contain eggs. As for allergies. It is important to note that Pawley's Raw Bar does utilize ingredients that include milk, eggs, soy, wheat, and flour. If you have concerns, you can reach out to us via our social pages before your visit to see how we can best accommodate you.
Do we offer carry-out or delivery options?
We can make EVERYTHING To-Go! We would be happy to prepare your meal for you to take home. Just give us a call to place your order and then come pick it up!
Animal-friendly restaurant?
Even though we proudly host a large blue crab for our mascot, we do not allow animals on our premises. There are some very wordy restrictions and regulations put forth by DHEC that we must follow in order to allow pets that we simply cannot comply with at this time. Service animals are permitted and always welcome.
Do we serve alcohol or have a bar?
We do! We offer a selection of liquor drinks, beer, and wine. We have various bar seating depending on how busy we are and would be happy to serve you your meal at the bar if that is what you prefer.
Do we offer specials or a happy hour?
We don't offer a traditional happy hour, but we do run occasional specials. It's best to reach out to us directly to ask what specials we are currently offering.
Live music? Trivia?
We might have some useless knowledge we can share, but we do not host a trivia night. Live music, happens on occasion. 
Merchandise for sale?
Yes, yes, and more yes! Hats, t-shirts, and more t-shirts. They are much easier to take home than a boiler pot, and they are easier to wrap too! Don't forget the Gift Cards! You can order them online before you visit by going to https://divinedininggroup.cardfoundry.com/giftcards.php Use them on food, beverage, and/or merchandise!
Where can you find us?
We are located at 9448 Ocean Highway in Pawley's Island. We are on the beachside of the highway. You can't miss our sign. It is the one with the big blue crab. We are close to several of the Pawley's Island Golf Courses and just a few minutes' drive from the waterfront.