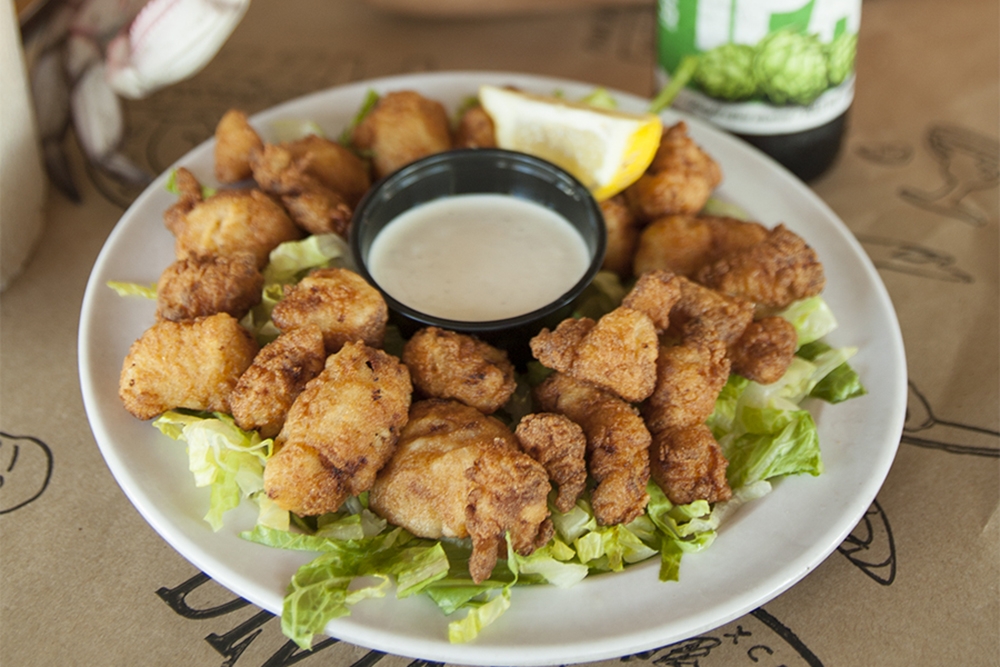 It is the perfect time of year to visit Pawley's Raw Bar! There are not as many tourists visiting our area, we are hosting Table Side Oyster Roasts on the first Saturday of the month from November – February, and it is the most festive time of year!
That got us thinking. What are some of our favorite items on the menu? What foods would we recommend our friends try the first time they come to visit with us? We came up with a shortlist of things from each section of our menu that we think you should try!
Starting with the appetizers we wanted to point out how wonderful our Low Country Crab Nachos are! They feature crispy tortilla chips topped with crab cake, blended Monterey jack and cheddar cheeses, tomatoes, and scallions and then we drizzle some creamy she-crab soup on top. It creates a terrific blend of flavors perfect for starting a meal.
Next up, our Gator Bites. For those that haven't tried them before, this can be a daunting experience. But you will not be disappointed. We marinate tender gator tail in hot sauce and buttermilk before lightly breading the pieces and frying them. Served with our house-made ranch dressing, our Gator Bites are worth the risk.
The last item on this month's list of things we would have our friends try from our appetizers section is our Low Country Cornbread. If we could only express how good this is through a computer screen….. You can smell the flavors as it is being delivered to your table, you can taste each individual layer as you dive into the wonders contained in this appetizer. It starts with a jalapeno cornbread as a base and then is sauced with a jambalaya. We top it with blackened shrimp, smoked sausage, blended Monterey Jack, and cheddar cheeses and top it with some green onions. Oh My Gosh, this is some good stuff!
If you are looking for a lighter option, we have some phenomenal salads. The Blue Cobb Salad is one of the favorites. Grilled chicken, tomato, bacon, chopped egg, strawberries, and blue cheese crumbles decorate a plate full of spring mix. You can choose one of our eight dressings to complete your offering. Or you could order a House Salad. This offering starts with mixed greens, cucumbers, tomato, bacon, and chopped egg. You can stop there or you can add your choice of grilled chicken, grilled or fried shrimp, grilled or blackened salmon, or seared tuna.
From the sandwiches section, we have to recommend the Grouper Po Boy! We did a whole post on the Po Boy a few months ago. You can check that out here: https://pawleysrawbar.com/2020/09/30/the-po-boy/  It is a sandwich that is worth the recommendation! All of our sandwiches are served with lettuce, tomato, red onion. For our Grouper Po Boy, we pile all of that along with strips of fried grouper onto a hoagie roll, place a pickle spear, Carolina slaw, and french fries on the side of the plate and deliver the happiness to you.
Next up on our list, we visit our specialties section of the menu. We want you to look at the Blackened Fish Tacos. Yes, tacos may seem a bit unconventional for a Raw Bar and Seafood establishment but when you take a bite out of these, you will understand why we suggest them. Three tacos filled with blackened grouper, shredded lettuce, and our house-made cilantro lime aioli, house-made pico de gallo, and served with a side of black beans and rice. Absolutely delicious.
Another item we think you should look into is Pawley's Island Surf and Turf. It is the best of both worlds. A 10 oz ribeye with 6 skewered grilled shrimp piled on top and served with garlic mashed potatoes and a vegetable medley. A little seafood, a little steak, makes for a great evening!
If you are still struggling to find an option on the menu to please you, let us make one more recommendation. Our Low Country Boiler Pots are to die for! They are so good we wrote a whole blog post about them. Check that out here: https://pawleysrawbar.com/2020/10/28/the-boiler-pot/ We stand by this recommendation and are excited to share it with you. Shrimp, mussels, clams, oysters, crab legs, corn on the cob, sausage, red potatoes are all mixed into a pot with drawn butter and some classic Old Bay seasoning. It is a pot full of happiness. Something you will write home to your mother about. Low Country Boiler Pots are the stuff dreams are made of.
Those are a few of our favorite things. Now, we would like you to share with us. What are the items on our menu you like to recommend to your friends and guests visiting us for the first time?
Don't forget Christmas is around the corner. If you are looking for the perfect gift, there is still time to get gift cards. You can buy them online here: https://divinedininggroup.cardfoundry.com/giftcards.php