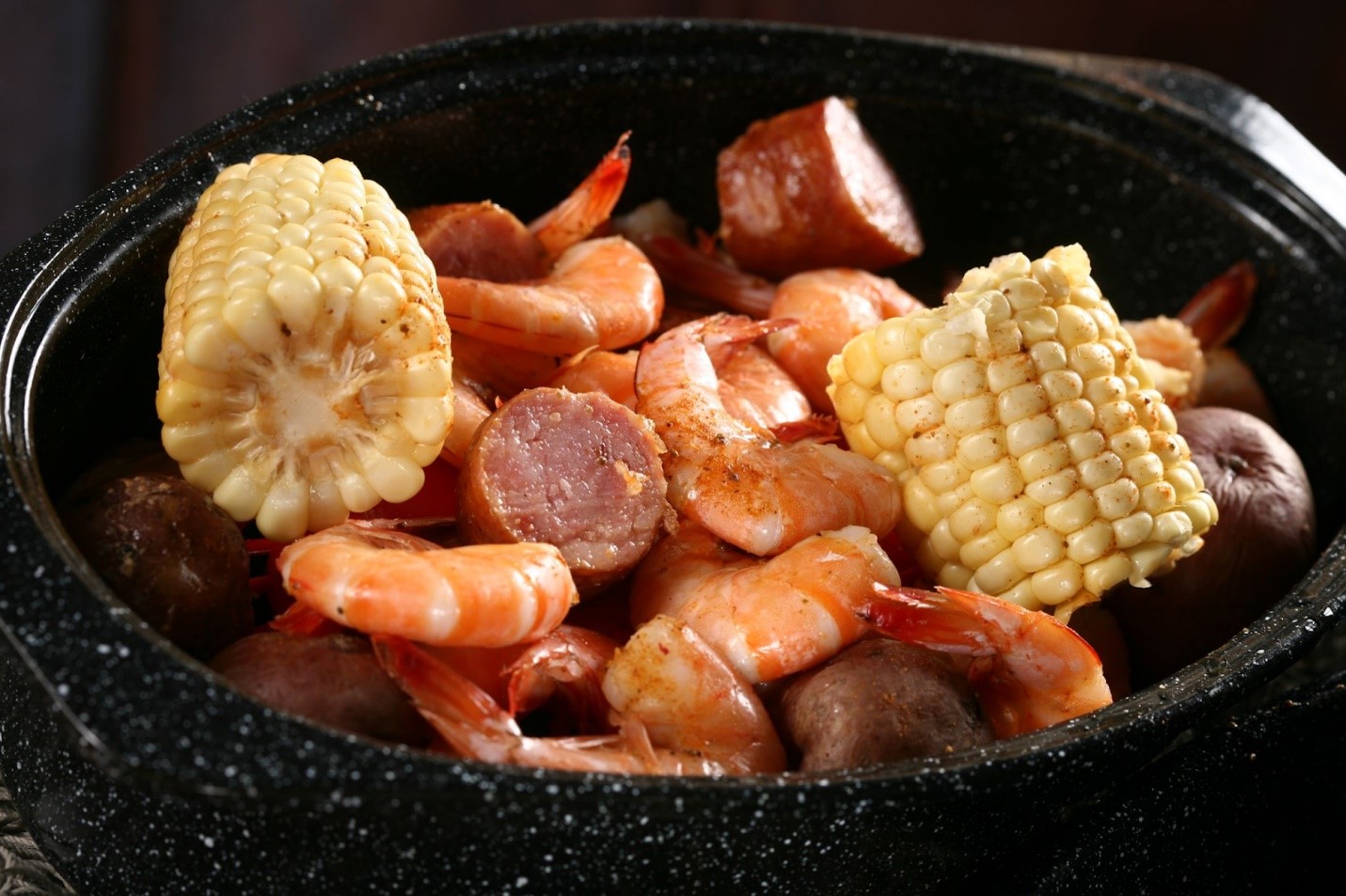 Cooler temperatures are coming, the perfect season for comfort food is right around the corner. We couldn't be more excited to see the break in temperature and for the season that is coming. Cooler weather means oyster roasts and Lowcountry Boiler Pots. While we have some oyster roasts on the horizon, let's take a deeper look into where the Lowcountry Boil comes from, some of its variants, and how it became so popular. 
A meal for the masses, and once known as Frogmore Stew, Lowcountry Boils have been attributed to Richard Gay. Richard, a National Guardsman, was faced with the challenge of feeding more than 100 soldiers. He turned to an old family recipe that he named after his home town to spite the soldiers who would tease him about growing up in a town named Frogmore. The dish was eventually renamed when the postal service eliminated the Frogmore town name. 
The Lowcountry Boil pulls its influences from the Gulla people along the coasts of South Carolina and Georgia. African, Spanish, and French cooking influences all contributed to the development of this dish. It was an easy way to make large quantities of food for many people quickly using foods that were readily available in the area. 
Lowcountry Boils are typically made with shrimp, sausage, corn, and potatoes. Easy to find items all through the southeast region. It is also a recipe that is easy to change and adapt to one's tastes. It is common to find crab, onion, and butter is added to the recipe. Most often you will see the meal cooked in a large pot that has a removable basket in the pot to make pulling out the cooked ingredients easier. It is also common to see the basket poured out onto a table covered in newspaper. While that allows for easier cleanup, it does get a bit messy. 
At Pawley's Raw Bar, we put more "Lowcountry" into our Boiler Pots. Lowcountry foods typically include rice, grits, crab, shrimp, fish, oysters, clams, and more. Lowcountry foods embrace the "comfort food" stereotype. Lowcountry foods provide a nostalgic and sentimental value to the consumer. Yes, they can be high in caloric content, but they pull back all of those good memories of family and friends and happiness that keep us coming back for more.
At Pawley's Raw Bar we work hard to help create those feelings. We want our guests to feel welcome and at home when they come to eat with us. We want to create memories as they sit around our tables and enjoy high-quality food with their family and friends.
Our Boiler Pots are made with quality foods that blend amazing flavors with a passion for our guests. When we pour shrimp, mussels, clams, oysters, crab legs, corn on the cob, sausage, and red potatoes in a pot, we do it intending to deliver a special meal to a guest that we consider part of the family. We top the ingredients with drawn butter and classic Old Bay seasoning because that is how you would make it at home. We bring it to your table with a smile and hope you enjoy it as much as we enjoyed making it for you.
You can check out our Lowcountry Boiler Pots on our online menu here: https://pawleysrawbar.com/low-country-boiler-pots/. Or feel free to branch out and check out our other Lowcountry inspired offerings. All of our food is made with the same passion that goes into creating our Boiler Pots. You should stop by and try some for yourself.