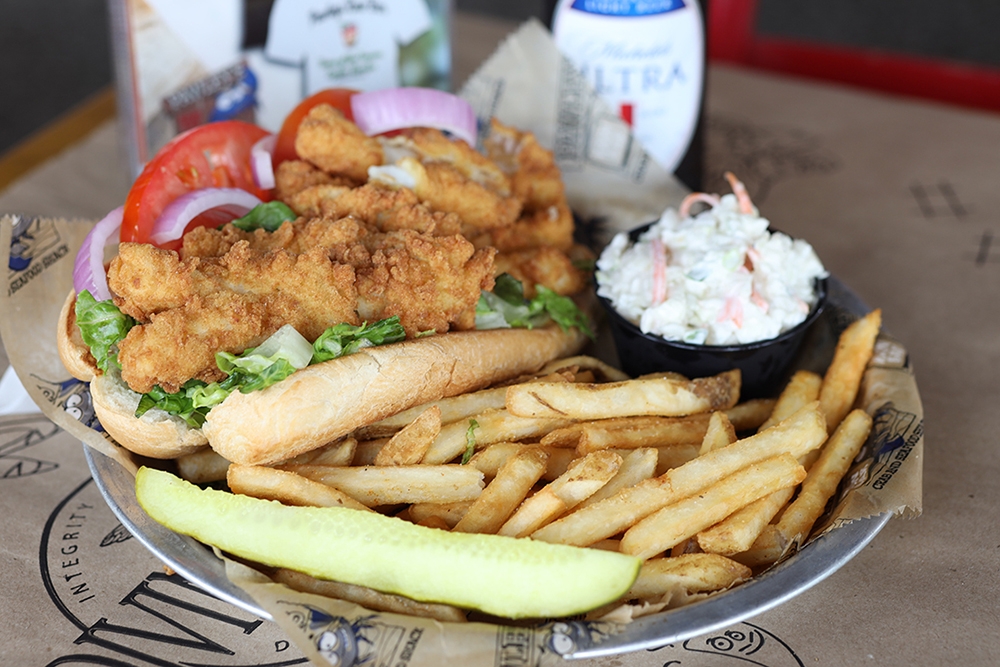 This month we are going to take a look at a very small portion of our menu, but something that has helped us to arrive at our identity. Some people call it a hoagie, some call it a sub or even a grinder. At Pawley's Raw Bar, we call it a Po Boy. 
The Po Boy is more than just an elongated sandwich. Hailing from the bayou country of Louisiana, the traditional Po Boy looks very similar to any other sandwich served on a long roll but instead of an Italian Loaf, it is served on a french baguette. A tribute to the french culture of the bayou. The filling of a Po Boy is also much different than a sub. Instead of cold cuts, a Po Boy most frequently features fried shrimp or fried oysters but can also include different kinds of fish. 
To make a Po Boy, you will need to bread and fry the ingredients before piling them high onto your roll. Traditional Po Boys use long crisp French baguettes. You can follow in our footsteps and use fresh hoagie rolls. They are easier to find and easier to keep fresh. Toppings are just as important as the bread and friend ingredients. There is no limit to what you can use. You can choose to be simple, or get as extravagant as you can imagine.
History points to Bennie and Clovis Martin as the creators of the Po Boy. In the early 1920s, they quit their job as New Orleans streetcar conductors to open a coffee shop in the city's historic French Market. Located in the heart of the French quarter, their business was small but located in a prime area which helped the brothers do very well. However, in 1929, at the start of the great depression, a strike and failed negotiations caused the local transit company to shut down. The Martin brothers fully supported the union by announcing they would feed any hungry striker who couldn't afford to pay. They created a saying used when they saw a striker headed their way. One brother would call the other, "Here comes another poor boy," and then they would make a sandwich.
This generosity earned the brothers thousands of fans and became a symbol of the city's heart and soul. Over time the slang and "accent" of New Orleans changed the name to Po Boy since that is what out of towners thought they were saying.
At Pawley's Raw Bar we have strayed a bit from the original recipe putting our own low country beachy spin on it, but we still put our entire heart and soul into every sandwich we create. 
We offer three different Po Boys at Pawley's Raw Bark. A Fried Grouper Po Boy, a Fried Creek Shrimp Po Boy, and a Fried Oyster Po Boy. All of these offerings come served on a fresh hoagie roll and are piled high with lettuce, tomato, and red onion with a pickle spear on the side. Hot sauce or cocktail sauces add great flavors as well, we just ask that you reserve the ketchup for the fries. 
Stop by Pawley's Raw Bar and try a Po Boy. We have great customer service to go along with this great sandwich!